The Adventures of Tom Bombadil, a BBC Audio Play
September 21st-22nd, Bilbo's Birthday Bash Featuring:
The Adventures of Tom Bombadil, a BBC Audio Play
Saturday September 21st at 1PM & 7pm PST
Sunday September 22nd at 1PM & 7pm PST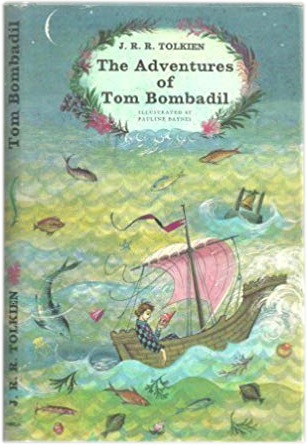 The Adventures of Tom Bombadil is part of a 1992 radio series of Tales from the Perilous Realm, written by J.R.R. Tolkien and adapted by Brian Sibley, produced by John Taylor and originally aired on BBC Radio.
Tolkien invented Tom Bombadil in memory of his children's Dutch doll, and wrote light-hearted children's poems about him, imagining him as a nature-spirit evocative of the English countryside.
The original version of Tolkien's poem The Adventures of Tom Bombadil was published on 15 February 1934 in The Oxford Magazine. The poem depicts Bombadil as a "merry fellow" living in a small valley close to the Withywindle river, where he wanders and explores nature at his leisure. Several of the valley's mysterious residents, including the River-spirit Goldberry (also known as the "River-woman's daughter"), the malevolent tree-spirit Old Man Willow, the Badger-folk and a Barrow-wight, attempt to capture Bombadil for their own ends, but quail at the power of Tom's voice, which defeats their enchantments and commands them to return to their natural existence. Throughout the poem, Bombadil is unconcerned by the attempts to capture him and brushes them off with the power in his words. At the end of the poem, Bombadil captures and marries Goldberry.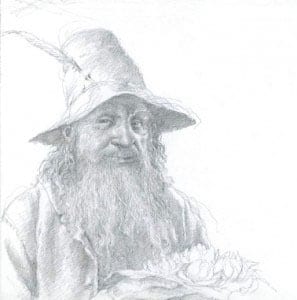 The later poem Bombadil Goes Boating anchors Bombadil in Middle-earth, featuring a journey down the Withywindle to the Brandywine river, where hobbits ("Little Folk I know there") live at Hays-end. Bombadil is challenged by various river-residents on his journey, including birds, otters, and hobbits, but charms them all with his voice, ending his journey at the farm of Farmer Maggot, where he drinks ale and dances with the family. At the end of the poem, the charmed birds and otters work together to bring Bombadil's boat home. The poem includes a reference to the Norse lay of Otr, when Bombadil threatens to give the hide of a disrespectful otter to the Barrow-wights, who he says will cover it with gold apart from a single whisker. The poem mentions a number of Middle-earth locations, including Hays-end, Bree and the Tower Hills, and hints at the events of the end of the Third Age, speaking of "Tall Watchers by the Ford, Shadows on the Marches".
The poems were published in the collections The Adventures of Tom Bombadil and later in Tales from the Perilous Realm.
| | |
| --- | --- |
| Role | Actor |
| J.R.R. Tolkien | Michael Hordern |
| Tom | Ian Hogg |
| Frodo | Nigel Planer |
| Merry | Matthew Morgan |
| Pippin | David Learner |
| Sam | Jonathan Adams |
| Goldberry | Sorcha Cusack |
| Old Man Willow | John Church |
Featured Artist Gallery
---
Reader's Comments
---