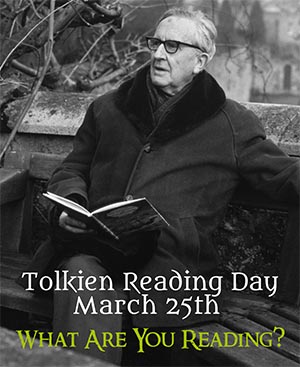 Every year we celebrate Tolkien Reading Day with a day(s) long mythic and musical event, join us March 24-26, 2023!
Tolkien Reading Day is held each year on the 25th of March, the day Frodo (and Sam!) destroyed the One Ring, marking the downfall of Sauron and the fall of Barad-dûr. Originally organized by The Tolkien Society in 2003, it has become a global fan-holiday to celebrate and promote the life and works of J.R.R. Tolkien where fans read their favorite passages and books.
We here at Heroes and Mortals Radio love the stories that take place in middle-earth, but we also enjoy the music and other audio creations that were inspired by Tolkien's middle-earth. And to extend the day's celebrations, we have a party of special magnificence planned, a weekend-long celebration of the music and audio of middle-earth!
We'll be playing interviews with authors and composers (including the composer of a Silmarillion inspired soundtrack), a prog rock opera based on The Hobbit, selected shorts and audio clips from the BBC Lord of the Rings program, a reading of The Hobbit by Nicol Williamson, music, select media clips, short audio clips of The Professor himself, and other special audio and music pieces, 24/7 for the entire weekend!