Lithographic Printing and The First American Christmas Card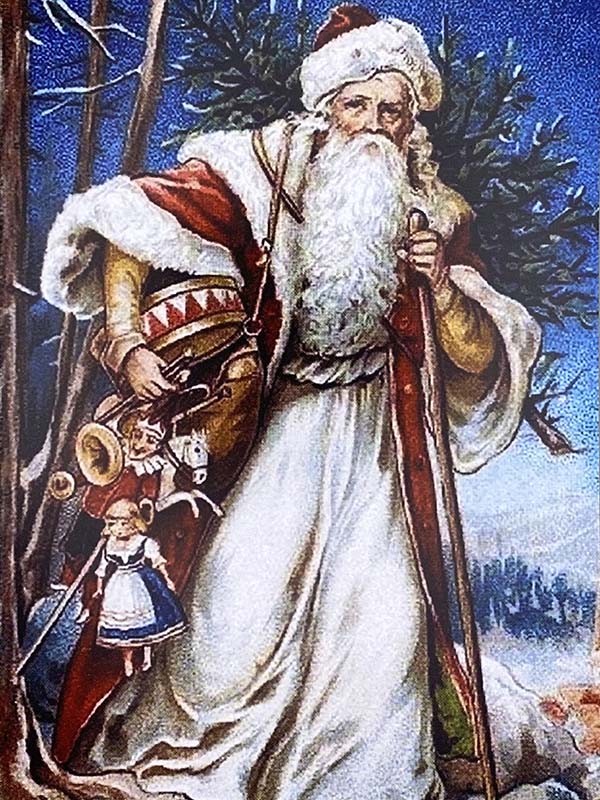 In addition to loving classic fantasy and sci-fi radio dramas, we're big fans of old school printing techniques too, which isn't surprising since one of our founding members is a Master Printer himself!  As we were contemplating new card lines for the holidays, one of the ones we decided to produce were Christmas and holiday cards using Victorian-era art which uses a specific printing technique called lithography.  While we're not using that technique today on our cards, the history of it is very interesting:
In 1875, Louis Prang, a Prussian immigrant, published the first American Christmas card from his shop in Boston.  The method for color printing at the time was 'Stone Lithography', where the artist drew the images directly on to a polished limestone block with a grease pen. The block was moistened with water, inked then mechanically pressed onto paper.  To achieve shading and color variations the artist would draw 'dots' or lines in to the image. This shading and color is very much evident when you look at turn of the century color cards where the dots are quite visible.  In the early 1900's the process evolved and instead of using a limestone block the images were drawn onto metal plates using the same principals.  You can estimate the age of color cards by the dot resolution.  In the early 1900's thru today lithographic printing continued to improve with modern equipment and techniques that were able to use photographic means of reproducing the images onto metal plates, which is called 'offset lithography', which today we call offset printing.
Here are a couple videos on the process of stone lithography and offset lithography.
How Stone Lithography Works
How Offset Printing Works
---
Reader's Comments
---