The Canterbury Tales in Original Middle English via the CantApp
Via the wonderful CantApp, you can view a scan of an original manuscript of The Canterbury Tales, listen to the General Prologue in its original Middle English, and read along as the story is translated line by line to English.  We're big fans of "old documents" and this is a wonderful presentation of the one of the most famous stories by the most famous Middle Age poet, Geoffrey Chaucer.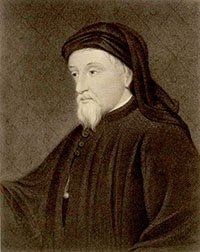 Written between 1387 and 1400, The Canterbury Tales is a collection of 24 stories presented as a contest of tales told by pilgrims travelling from London to Canterbury to visit the shrine of Saint Thomas Becket at Canterbury Cathedral, with the prize of a free meal at the Tabard Inn upon their return.
Though none of the original hand-written scripts of Chaucer survive, the CantApp presents one, if not the earliest, manuscript copies (from around 1400), written by a contemporary of Chaucer's and now known as the Hangwrt Chaucer manuscript.  This original script is at the National Library of Wales in Aberystwyth but via the link below, you can view hi-resolutions scans, listen, and read along to some of this original manuscript.  It is a unique way to dive into one of the most wonderful tales ever told.
http://www.sd-editions.com/CantApp/GP/
Image source: https://en.wikipedia.org/wiki/The_Canterbury_Tales#Adaptations_and_homages
---
Reader's Comments
---