Mythic Weekend: The DNA Pit
Pulp-Pourri Theatre: The D.N.A. Pit
Saturdays at 4PM & 10PM PST
Sundays at 4PM & 10PM PST
Duration: 52 minutes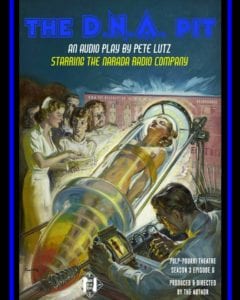 THE DNA PIT was chosen as a Finalist in the 2016 Mark Time Awards!
Join us for some chills with The D.N.A. Pit! Dr. Philip Schaefer is a geneticist in Celestial City who has invented what's being called an Earth-shattering device: The D.N.A. Pit, which is capable of altering any living creature's DNA. Dr. Schaefer wants to use his device for the good of mankind, but forces beyond his control may try to subvert his miraculous device to their own twisted ends! Listen and enjoy!
The D.N.A. Pit is an original story by producer-director, Pete Lutz. Originally written and produced as a live "radio" drama on the stage at Harbor Playhouse in 2001, Pete revised the script for Pulp-Pourri Theatre in 2014. This production is sponsored by Dromedary Cigarettes and stars the Narada Radio Company.
CAST OF CHARACTERS (In order of appearance):
VENESSA SANTOS: Aileen Corpos
DR. PHILIP SCHAEFER: Dana Gonsalves
DR. DARREN McCORMICK: Austin Hanna
COMPUTER VOICE: Angela Elgueda Young
STERLING STEELE: Mark Hacala
HOMELESS MAN/HENCHMAN: Juan Perez
FEDERAL AGENT #1: Austin Beach (of Audioblivious Productions)
FEDERAL AGENT #2: Julio Herrera
GEN. THANH NGUYEN: Pete Lutz
KATIE McCORMICK: Cheyenne Gibbs
ANNOUNCER: Lisa Ayala
Pulp-Pourri theme composed and performed by Rich Wentworth
Episode Theme: Second Coming by Kevin MacLeod of incompetech dot com.
---
Reader's Comments
---