Full letterpress card line now available at Oblation papers & press in Portland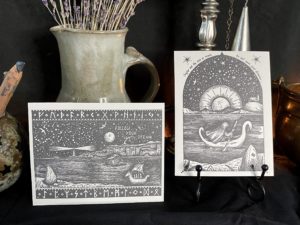 We're extremely pleased to announce our full line of hand-crafted letterpress cards is now being carried by Oblation papers & press in Portland, OR!
Oblation papers & press was founded by husband-and-wife duo, Jennifer and Ron Rich, who began selling their handmade paper goods at the Eugene Saturday Market in the late 1980s. They opened their brick and mortar store in Portland's pearl district in 1998 and since its inception, the store has brought handmade papers, stationary, cards, and more, to a wide community of shoppers and lovers of handmade paper products.
In addition to fantasy and sci-fi inspired radio, we at Heroes and Mortals also create fantasy and sci-fi inspired handcrafted letterpress cards! With backgrounds in letterpress printing and design, we've created a line of cards via our print outfit, MythrilMade, we think many of our community of listeners will enjoy, from our Elven, Viking, and Dungeons & Dragons inspired cards to our commissioned art cards from well known artists, Anita Inverarity and Gill Rippingale. Oblation papers & press picked up our full-line of cards and they're available to purchase now in their shop.
If you're in town, stop by the shop at 516 NW 12th Avenue, Portland, OR 97209 or if you'd like to purchase cards directly from our Etsy shop, you can do so at etsy.com/shop/HeroesAndMortals.
More information on Oblation papers & press is available on their website at oblationpapers.com.
---
Reader's Comments
---