Event info
| | |
| --- | --- |
| Date: | June 15, 2019 |
| Time: | 2:00 pm |
Details
Jeff Wayne's Musical Version of The War of the Worlds
Saturdays at 2PM & 8PM PST
Sundays at 2PM & 8PM PST
We'll be broadcasting a rare treat Saturday & Sunday June 8th & 9th, at 2PM & 8PM Pacific Standard Time, Jeff Wayne's Musical Version of The War of the Worlds.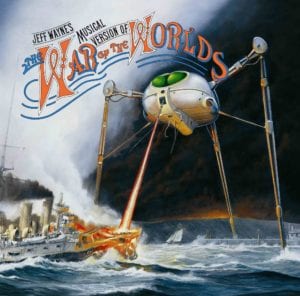 This is the complete debut album by Jeff Wayne, retelling the story of The War of the Worlds by H. G. Wells, released in the UK in June 1978. A concept album, its main format is progressive rock and string orchestra, using narration and leitmotifs to carry the story and rhyming melodic lyrics that express the feelings of the various characters. The two-disc album remains a bestseller, having sold millions of records around the world, and by 2009 it was the 40th best selling album of all time in the UK with sales of 2,561,286. It has since spawned multiple versions of the album, video games, DVDs, and live tours.
THE CAST:
Sir Richard Burton – spoken words (The Journalist: the narrator-protagonist)
Justin Hayward – vocals (The Sung Thoughts of the Journalist)
David Essex – spoken words and vocals (The Artilleryman)
Chris Thompson – vocals (The Voice of Humanity)
Phil Lynott – spoken words and vocals (Parson Nathaniel)
Julie Covington – spoken words and vocals (Beth)
Jerry Wayne – spoken words (The Voice of NASA)
In case you miss it Saturday the program will re-air at 8PM and will re-air at 2PM and 8PM the following day.